Can he play in the back court? Should Marcus Derrickson start over him? Is he the jack of all trades 6th man?
What is known about Paul White is that he offers a skilled game in a 6'8 frame. Known as a cerebral play-making forward, White also displayed better outside shooting touch than advertised coming out of high school playing for Whitney Young HS and the Chicago bred AAU Meanstreets program. The knocks on White's game - lack of physicality and assertiveness also showed as the season entered the doldrums of January and February.
Consider that 5 of White's 7 games in which he played more than 20 minutes and posted an offensive rating greater than 110 occurred in November and the first two weeks of December. And not against bottom feeding low-majors. The five were comprised of Florida, Wisconsin, Butler, Kansas and Radford. It was difficult to put a finger on what caused White to struggle during Big East conference play but the slippage was clear:

White was not the most physically imposing freshman and general freshman fatigue and the grind of a physical conference certainly can explain a drop-off in production. In contrast, the Hoya freshman who appeared the most physically ready for a 30+ game season, Isaac Copeland, proved so over time. An off-season of conditioning and lifting should help White as much as anyone on the roster.
Where White can look to improve is simply moving on the floor with more force. Be it boxing out, pushing the ball with purpose, cutting hard or becoming a more active defender with his length. White has an old-school game but needs to add some more grit to maximize his skill level.
When guarding a lottery pick, you need to stay attached and not worry about taking on a screen:
One area White will have to improve upon with the loss of Mikael Hopkins and Josh Smith is a willingness to hit the boards and put his body on the opposing team:
White just simply can't afford to not put a body on someone. He can't high-point the ball like Isaac Copeland off of misses. White is not a quick enough athlete to move half speed, either. While helping here is his responsibility, once done he needs to be on a streamlined take back to his man. Half speed for a split second and it's an open three:
Same idea here out of zone. White's movement has to be concise, no floating:
An athlete like Aaron Bowen probably could have made the mistake of asking for a switch and recovering in time, it's a mistake White can't afford:
Cut harder, seal harder:
Cutting hard gets you these kind of opportunities:
Another smaller gripe I ran across this year was White either gathering a rebound or loose ball and dribbling up the floor without much purpose. It was nice to see him exhibit that he can handle the ball, the next step has to be pushing the ball for actual offense. Bringing the ball into the front court can create cross-matches, lanes to drive and open shooters. Otto Porter often created the best offense on a team with few skilled players doing such. It appeared White had the green-light to do so but was just not very comfortable in taking command. The rare times it did happen, good offense was the result:
As White develops physically and as a thinking man's basketball player a lot of mistakes can be minimized. But for now at times, White just could not hold up physically in some match ups:
A freshman mistake here, you can't take your eye off ball/man baseline out of bounds against one of the better shooters in the country:
I believe JayVaughn Pinkston made 0 three pointers this past year. Simply a scouting report and personnel recognition loss:
Where White showed real promise is where you would have expected. A diverse offensive game, the potential to be a zone buster and the ability to be an interchangeable defender due to his length.
If you were to display everything Paul White can be offensively, this clip might be it:
Pushes the ball..spaces the floor properly...enough of a threat from 3 to draw a defender...puts the ball on the floor again..draws a defender and makes a great pass...all at 6'8.
The next two clips illustrate the skill level White has:
I'm not recommending he attempts 'The Dirk' often, or ever again. But for a freshman to have the confidence and reasonably pull it off in a high-major game gave an inkling of White's ability in the mid-range.
There's just not a large list of 6'8 freshman going into a Euro-Step to a reverse finish against Kansas.
Where White should really make his mark over the next 3 years for Georgetown is in the middle of opposing 2-3 zones. (Which may become more frequent with a 30 second shot clock). White showed poised, a delicate touch and high awareness operating out of the foul line area.
This makes it looks like White can pick apart a zone in his sleep. Take away the middle? Just easily floats to the baseline, one dribble pull-up:
White's mid-range game is a serious asset. Zoning highly skilled teams often is asking for trouble. While Georgetown hasn't struggled against zone as much as some would believe, there have been issues along the way in the JTIII era. If you can have a player who can comfortably take and make from the free throw line while also being an above average passer surrounded by skilled players, it becomes awfully difficult to zone that group.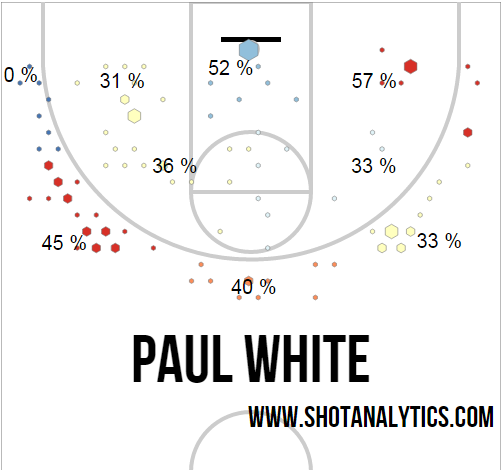 The numbers aren't staggering but certainly above average for a freshman in the mid-range. White's shooting ability from the above the break 3 and top of the key also lend itself well to JTIII's version of the Princeton offense. He'll have a lot of looks from that sweet-spot on the left wing over his career.
What I love about White's jumper is the release point he has at again..6'8. It's not the prettiest or most mechanically sound jump shot but his high release point makes it nearly unblockable even though he barely gets off the ground.
Here White is on the other end vs the 6'9 lottery pick, Sam Dekker. And Dekker can't get to it:
Where I would like to see White improve and become more assertive is making plays for others. I would only ask for an uptick in that department from a player who is capable, and I fully think White is. In my opinion, White is too talented of a passer and potential playmaker to go through a 33 game season with only 41 assists.
High level find:
As he develops, my hope is to see more of this assertiveness:
And even if the ending isn't a pass:
Where White took be my surprise at times was his ability to defend. And more notably to switch and be an interchangeable part on the defense end. White is very comfortable guarding small forwards (his natural position) and showed the ability to guard some 4's and 2's as well. While I wouldn't want him on smaller, shifty two's or bigger and physical 4's..he certainly showed the ability to guard your bigger 2's and smaller 4's. It's hard to believe White had a slightly higher block percentage than Isaac Copeand but that was the case, White has sneaky length that bothers offensive players:
Again, White is not the quickest on his feet but when engaged and disciplined his length makes up for his speed deficiency:
This is the type of attentiveness you hope turns to habit:
Here White is stuck in a mismatch against Kasey Hill, a shifty point guard but holds his own:
Again here, against Sterling Gibbs. How good is this?
That said, I still can't totally be a buyer on White playing a guard position this year. Not that it's much of an issue offensively but because where you play on the basketball floor often comes down to what position you can guard. What I can see is a super-big lineup with White at 2G while playing zone on the defensive end - think of Georgetown in 2011-2012 in similarity. But White's versatility offers many options, he can conceivably play three spots depending on match up. Pair he and Derrickson, or he and Copeland at the forward spots. Can play the 3 next to DSR/Peak. The 4 next to Govan. Etc. Also worth noting that White played the 5 in a pinch of all pinches at Seton Hall this past year. That's taking it too far, but you get the point. White offers the most lineup versatility on the roster. With an improved motor and assertiveness on both ends, a forgotten figure this off-season, White figures to be a mainstay on the floor.
Others in the Film Room Series: