This is the guy. If Georgetown is to climb from the solid Top 25 caliber group of 2014-2015 and into a threat nationally that hovers around Top 10 territory and into 2-3 seed territory for March - it's with a major, yet reasonable jump from Isaac Copeland. Hailed as the jewel of a strong 2014 recruiting class, Copeland struggled out of the gate in three home openers against bottom-tier competition resulting in seeing him on the floor for a combined 7 minutes in the Bahamas vs Florida and Wisconsin. Then came a break out game against Butler (16 point and 4 rebounds in 24 minutes) with the Hoyas in need of a spark the following day. Copeland did not become immune to struggles (or trust - Ike Minute's) but he progressed enough to find his way into the starting lineup and eventually became an indispensable player, starting the final 10 games and logging 37 minutes in the season ending loss to Utah.
Copeland has all the physical tools (except a short wingspan, 6'9...the same as his height) to blossom into an All-Big East performer as soon as this year. Copeland's athleticism shows most around the rim when the ball is up for grabs. An athlete whose standing jump and subsequent second jump are elite at the college level offers the Hoyas something they haven't possessed out of the forward spot since Jeff Green and Patrick Ewing JR. While not the most physically imposing player as a freshman with his strength, his athleticism led him to post the 6th highest defensive rebound rate in the Big East during conference player (20.6) higher than Josh Smith or Mikael Hopkins.
This ability to high point the ball is unique:
Early on it appeared Copeland may be a bit passive on the floor. As the year wore on, it was hardly the case. Copeland goes gets it and has a knack for finding the ball:
Three red shirts and Ike is the one who gets it:
The examples I've found show Copeland hitting the offensive boards. That's not something that will ever be that prevalent in the Georgetown offense. However, any time it can be it's an added bonus. Georgetown focuses on getting back on defense and often has 4 out on offense to begin with, but if Copeland has the green light to crash the boards it could provide major dividends.
Lastly, this is the fast-twitch athlete at the rim that Copeland can be:
While Copeland was well regarded as an athletic combo forward out of high school and the above was of little surprise, Copeland displayed a much better shooting stroke than most could have anticipated.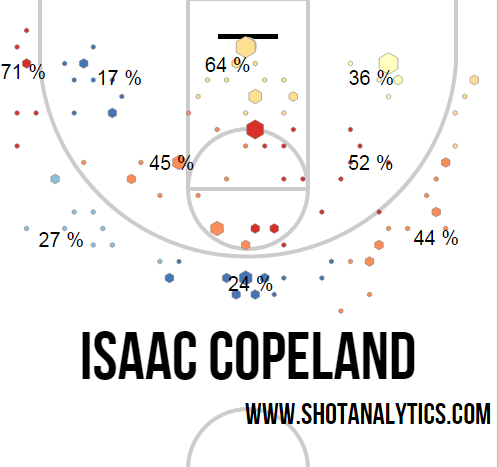 While Copeland's volume of shots offered a small sample size, there's a lot to like there. For totals, Copeland ended up at 39% from 3 (21-54), 48% from 2 point range (62-130) and 80% from the free throw line (38-47). Copeland offers a quick release and unlike some of his fellow freshman (LJ Peak notably) from last season his stroke and mechanics appeared to be stay consistent throughout the year. It does come off as a bit of a line drive but his release is compact and he elevates on every attempt:
Copeland's positioning this year will likely swing between the 3 and the 4 spot, where Copeland can open more space for the offense is at the 4. Here you see Copeland at the 4 and as Trawick draws a defender, it's a wide open 3. If Copeland knocks that down consistently, it's either three points or that help can't come off of Copeland and it's an open lane:
In a rare glimpse of Paul White at the 5 and Copeland at the 4 (Seton Hall and Indiana the only two occurrences), you can see that Indiana's defender is jut not willing to abandon Copeland and it leads to open lanes:
Here, #32 on Creighton can't leave Copeland and an added foot of space is all LJ Peak needs:
This is another aspect that I found enjoyable (and very valuable), Copeland's movements and cuts offensively are with purpose. He sets up his defender with a hard initial step to free himself up, if he goes half speed it doesn't work:
I found Copeland to perhaps be one of the best cutters on the team, a skill that the Georgetown offense leans on. Perhaps only seniors Trawick & Bowen cut as consistently hard or effectively as Copeland:
A real change of pace and style that Copeland exhibited was an eagerness (and perhaps a green light) to let it fly early. Sometimes his shot selection was a bit rushed, but when it went well (and in) it was a nice reprieve from the half court offense. JTIII has often said they want the best shot, regardless of time left on the clock and while Copeland didn't always take the best one available, he sure wasn't shy to pass on what he thought was it:
12 seconds into the shot clock, sees an opening and takes it:
For a program that has struggled with turning the ball over in their half court sets, this is a nice little way to make sure you're getting a shot on the rim. At times, it will be frustrating as there will be misses and it's so out of the norm of what we've seen for the better part of a decade and sometimes it's just a plain bad shot:
All in all, I'll take the good with the bad. It negates any turnovers, a good shooter is taking a shot and speeds up the game in which Georgetown should often have the more talented team. Perhaps it was just freshman jitters that led to it at times and JTIII reigns him in, but I wouldn't mind seeing more of it.
Like fellow freshman, Copeland in limited opportunities showed the ability to be a zone buster either by operating in the middle or along the baseline:
Unlike White, Copeland is first and probably secondly looking to shoot against zone. The next step for Copeland against zone or any defense is to look for teammates more often as his shooting ability should draw the defense. I don't view Copeland as a selfish player at all, but his passing ability has not been as evident as his scoring ability so far, but he is capable:
The two most glaring areas of improvement on the offensive end for Copeland are his ball-handling and possibly playing with his back to the basket. Not many teams, college or pro are looking for a 6'9 forward to be able to post defenders on the block, it would simply be a luxury. It would offer a nice option against a small team when Copeland is playing on the wing but generally Georgetown isn't running offense through the block outside of their 5 man. Georgetown's offense also protects against Copeland's to date non-existent ball-handling. Copeland's strengths as a freshman - athleticism, moving hard off the ball and shooting - play perfectly into the hybrid Princeton offense. If he can improve his ball-handling it will make a world of difference as he tries to transition into an NBA player, as well as helping Georgetown break pressure in the half court or full court. What we did see are bits of concise one, two dribble moves, which is a good starting point with working off the bounce:
You can see here Copeland just isn't comfortable as he makes his move. There's no third dribble to get to or a jump stop or a step-through to finish his movement:
You hope he can find more comfort using his dribble as his athleticism can be put to good use and he finds more ways to utilize his athleticism at the rim:
Copeland had a very productive offensive season for a freshman. Where he was more of a mixed bag was on the defensive end, but with a year of seasoning and understanding he should be primed for a significant improvement. One of the more encouraging signs was that Georgetown's ability to defend around the rim did not suffer at all once Copeland became a starter. Copeland ended the Big East conference season as the 9th best shot blocker in the league (a 4.5 block rate in-conference). Again, not blessed with even an above average wingspan, Copeland has enough size and can make up for a lot with his ability to explode off the floor:
Where Copeland can struggle is guarding the ball in the post. As of last year, he simply lacked the strength and know-how to do an adequate job. Where Georgetown and Copeland should benefit is a continued lack of teams that play two true big men at the same time. Just in conference, it's difficult to see a team outside of Marquette (Ellenson and Fischer) that will do so. Here is Copeland against some PF's:
Here, Copeland struggles enough with his own match-up that he abandons his help responsibility:
Some of Copeland's difficulties on defense can just be crossed out by being a freshman. Stuff happens. Like not knowing what defense you're in:
Or feeling the need to try to guard everyone and end up guarding nobody at the same time:
And not picking up in transition:
That stuff is correctable and the encouraging thing is that Copeland is willing. Activity can be half the battle.
This is a lot to to be involved in but Copeland holds up:
Where Copeland intrigues me most defensively is his potential versatility and his ability to guard ball screens. Copeland moves his feet is well and is always a good candidate to show on a ball screen or perhaps in time, aggressively trap. With his athletic ability a simple hedge and recover is a fairly easy task:
He pretty much disrupts this up on his own:
Starts on a 4 and seamlessly switches onto a 3:
And onto a 1:
This is where you hope the Copeland/White forward pairing can make it's hay on defense, the ability to switch easily:
This may be most impressive, Copeland shows and his ready to recover but Tre Campbell is slow to re-enter, making Copeland re-adjust and stay with the ball for one more step. And yet Copeland is still almost out to the 3 point line in time for a contest:
The defensive end wasn't always clean for Copeland but there's enough to work with here to believe he can become a plus defender as soon as this November. He's active, athletic and willing to do the work. With added weight (GUHoyas lists him at 220 now, up nearly 20lbs from last year) and a better understanding things should go more smoothly. It will be interesting to see if JTIII employs him differently than others guarding ball screens when Copeland is playing the 4. I believe his quickness should be utilized and at worst see a hard show, if not an all out blitz of the ball screen against weaker offenses and point guards. Copeland also should be a benefit if the program gets back to playing more zone defense. He offers length and size on the back-line and the ability to rebound in space when it often times is difficult to find a man and put a body on an offensive rebounder. All that leads to an intriguing main thought with Copeland: he offers some unique traits that Georgetown has not had out of many players in the III era. His athleticism, a penchant for quick offense, a floor spacing 4 man (Otto Porter was this, but a much less talented offensive team surrounded him) or a gigantic 3 man with the speed and skill to make it work, along with a quickness on the defensive end that's ready to get loose.
Copeland could very well need to shake off more cobwebs and be a year away. Perhaps the understanding on defense doesn't come as quickly and his shot suffers a bit of a dip in his sophomore year. That said, I have no doubt he eventually does get there, and if it is this year....the delusion train might face max capacity.
Others in the Film Room Series: