Your Fighting Hoyas of Georgetown fended off an incredibly annoying Rutgers team for the final time in Big East history on Saturday night to improve to 23-4 overall and 13-3 in the Big East. Before we flip the switch to cover the final week of the regular season and games against rivals Villanova and Syracuse, as usual we here at THE AWARD WINNING GLOBAL PHENOMENON are handing out hardware to those most deserving.
The Chris Wright Heart of a Champion Award:
Otto Porter is making a serious run at earning "I'm going to single-handedly win this damn Casual Award every game" honors, and who am I to stand in his way? Porter was again everything on Saturday night, pouring in 28 points on just 12 shot attempts, making swooping layups and majestic highlight reel blocks on the defensive end. In just one week Porter has already bagged Big East Player of the Year honors and is making a run at National Player of the Year, an award no Hoya has ever won.
Ridiculous Award:
Porter had 28 points, 8 rebounds, 2 assists, 4 steals and 3 blocks against Rutgers, which led the Hoyas in each category. Yup.
Is Georgetown Getting Too Dependent on Otto Porter Award:
Georgetown. This is becoming a valid question and nothing scares me more than when Porter takes the court and has an off game. Nothing, not even if that dude from Scream were chasing me around the Casual Compound.
Mike Rice Can Eat A Bag Of All The Dicks Award:
Mike Rice. The Big East is full of despicable head coaches, some more fun to root against that others due to their dickish ways (Jim Boeheim), their tendency to coach from on the damn court (Buzz Williams) or elegant sense of style (Jay Wright), but Mike Rice is the worst. Just a bad head coach with a consistently awful game plan and in charge of a bad program.
The Big East's Gain is the Big Ten's Loss Award:
Rutgers. Good riddance.
Saturday Night Fever Award:
Late Saturday night action against Rutgers at Verizon and worried about a small crowd showing up? Think again! A crowd of more than 12,000 of DC's finest came out to support the Hoyas, creating a surprisingly loud and lively atmosphere against the worst program in the B1G.
Charlie Hustle Award:
Nate Lubick. 6 points, 6 rebounds, 2 assists and 2 blocks and oh there was the time when HE DOVE AFTER A BALL WITH A BUM ANKLE. Best guy. Also, he is a coach's son.
#FREEWHITTINGTON Award:
Have more people jumped off this bandwagon of late than any other bandwagon in history? I mean, we still want the dude, right? Is it weird that we don't have closure on this issue yet?
Salvage Your Dignity Award:
Our favorite t-shirt Gatling Gun dude relaxed the shit out of this costume ahead of his debut on THE GLOBAL PHENOMENON this week. You read that correctly.
Document Your Lunch Award:
There's good fried rice and then there's this fried rice which contains everything that a solid fried rice should, with egg, pork, shrimp and pineapple which appears to be hidden.
Revenge of the Nerds II: Nerds in Paradise Award:
Remember at the end of this epic Nerds installment when they convert Ogre to a nerd and he gets inducted into Lambda Lambda Lambda and he's wearing glasses and a sweater and a pocket protector? Well, so does Josh Smith:
The Rutgers Scarlet Knights Have Been An Embarrassment to the Big East for a Decade Award:
Rutgers.
Big Man U. Award:
Lost in Porter's brilliance was another kind of sort of Egads game from Comrade Mikael Hopkins, who again found himself in foul trouble and finished with 4 points and 2 rebounds in just 15 minutes. Hopkins did hit all 4 free throws and didn't miss one in all of February, so that's pretty casual, and Moses Ayegba again played well in an extended role with 4 points and 7 rebounds in 20 minutes.
Georgetown Will Win the National Championship Next Season if Otto Porter Stays Award:
Markel Starks, Greg Whittington, Otto Porter, Nate Lubick, Josh Smith, DSR, Trawick, Hopkins, Ayegba, Reggie Cameron? Jesus Christ.
No Chance Otto Porter Stays Award:
Otto Porter.
Guess Who Won't Be Playing On Tuesday or Wednesday of the Big East Tournament Award:
The Georgetown motherfucking Hoyas, who have clinched a double-bye and no worse than a 3-seed in the grandest Conference Tournament in all the land.
Can't Wait To See What These Guys Have In Store for Saturday Award:
The Stonewalls.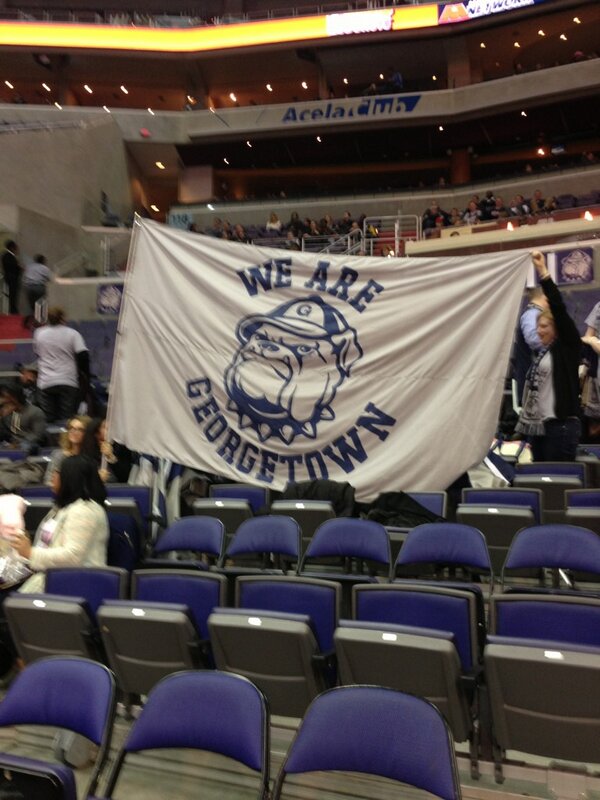 The Vanderpump Rules Award:
I am Team Jax and would be happy to debate the merits of such against those who may be Team Stassi. If you have no idea what I'm talking about, that's fine. It's not casual, but it's fine.
I Am Scared Shitless of Georgetown Getting a 1-Seed But Would Be Very Happy With a 2-Seed In The Same Bracket As 1-Seeded Gonzaga Award:
Me.
Jim Nantz Award for In-Game Commentary:
by john carrolls lap on Mar 2, 2013 11:17 PM EST up reply actions 6 recs
Gratuitous GIF of Kate Upton Doing Kate Upton Award:
Kate Upton.
The Georgetown Hoyas are a nationally ranked powerhouse.
Villanova is NeXt.