The Hoyas dropped a thriller last night to the Syracuse Orange in the semifinals of the Big East Tournament, and as we enjoy this relaxing Saturday (hopefully the last relaxing Saturday we will have all month), we're handing out some hardware to those most deserving. Away we go!
The Chris Wright Heart of a Champion Award:
Mikael Hopkins. That's right, Mikael Hopkins! On a night where Otto was merely mortal and the rest of the gang was struggling from the perimeter, Hopkins stepped up big for the Hoyas and kept Georgetown in the game. Our favorite Comrade finished with 15 points and 8 rebounds and more importantly was assertive and confident with the ball in the paint. Good things.
Bozo The Clown Award: Michael Carter-Williams. There is enough about his game that is hilarious to watch. The mindboggling turnovers, the 20 foot bricks, the loose ballhandling and on and on. But then I read on Twitter that he was taunting the Georgetown student section? What in God's name does he have to be proud of? That his team would have won by 7 had he not been on the floor? I cannot imagine hating a player as much as I hate Carter-Williams. He has skyrocketed past Devendorf, Scoop, Gerry, and Rautins because I still have yet to see anything from him that warrants 5% of the ego that he brings. Remember that you read it here first when Syracuse doesn't make it out of the first weekend, it will be because of Mr. Lord & Taylor.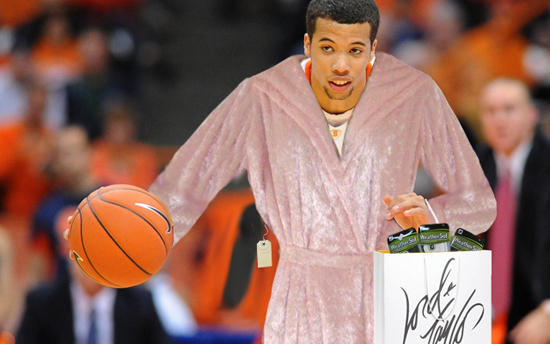 Document Your Big East Tournament Award:
Special thanks to Luke Winn for sending these two in. Yes, that's the same Luke Winn who happens to moonlight as a Casual Documenter when he's not penning Pulitzer Prize worthy material for Sports Illustrated:


This Guy Sold His Blog For Over $1mm Award:
The Big Lead. The man is a one man Bleacher Report. I get the feeling the guys at Bleacher Report saw his successes and said "Wow, America is dumb enough to reward this guy with page clicks? We may have something here." His tweet before last night's game was something to the tune of "I am one of the rare fans who likes both Syracuse and Georgetown." Yes, because so many of those exist. He's also one of those rare fans of both Nazi Germany and Churchill, Columbus and the Native Americans, and countless other rivalries that no one else in the world likes both sides of.

Pete Thamel Award:
Multiple sources have confirmed that Pete Thamel is a gimpburger with cheese, including high ranking Big East officials and "some people" closely associated with Big East programs familiar with the negotiations of how gimpburgers with cheese are appointed. #thamelhack

Ewing vs. Pearl Award:
Everyone knew they were coming to see a battle of two historic programs last night with sublime talents like Otto Porter and CJ Fair squaring off. Oh wait, we actually came to see Baye Keita and Mikael Hopkins. Didn't see that one coming.
Miss A Fucking Free Throw Dammit Award:
Baye Moussa Keita.

Hot Damn Award:
CJ Fair's dunk in overtime. No hate here, that was an awesome play at a crucial moment. I have no beef with CJ Fair, dude plays his ass off and I am a sucker for smooth lefties.
Don't Shoot The Messenger Award: All I care about is a deep run in the NCAA Tournament. We've had good regular seasons, memorable Big East Tournament runs, and tremendous victories since 2007, but all I want this year is a deep run in the NCAA Tournament. If last night's loss is the catalyst for that run, so be it. I don't mind not having to play Louisville tonight, getting beat up and run ragged with their press. If it weren't for losing to Syracuse, I'd be downright HAPPY losing. The Big East Tournament always seems more important than the rest of the conference tournaments because three reasons - 1 we're Georgetown fans, 2 it is in New York and 3 it is ESPN's baby and they pimp it accordingly. We're all pretty big basketball fans here, I dare someone in the comments to come up with a single winner of another conference tournament over the last 5 years. They just don't matter that much.

But...But..Remember How Awesome It Was When Georgetown Beat Syracuse in the 2010 Big East Tournament Award?
Yeah, that was great. And then the Hoyas had to play again the following night against Marquette and then in the final in a knockdown slobberknocker against West Virginia and then got blown out by Ohio days later. I'll take this day off, thanks.

Silver Linings Playbook Award:
Georgetown is 13-2 in its last 15 games, but I will argue that those two losses were more important to our sustained NCAA run than any of the victories. We lost the Villanova game because of sloppy turnovers, with 22 in total. Since then, we have averaged 9 turnovers a game. Last night's game was lost at the free throw line and because of silly fouls. I am pretty confident that if we continue to protect the ball, shoot solid free throws and don't pick up silly fouls, we're going to have a deep, deep run in the NCAA Tournament.

Silver Linings Playbook Sequel Award:
The last 3 games have been crucial for the development of the rest of Georgetown's team. DSR, Markel Starks, Jabril Trawick and Mikael Hopkins should be entering the tournament with newfound confidence knowing that it's not just the Otto Porter show. Combine that with Otto getting a few subpar (by his standards) games out of the way and we've got a perfect storm brewing.
Silver Linings Playbook Trilogy Award:
Though some undoubtedly found Blog DJ's post-Cranberries selection of Claude Debussy's soothing piano soundsrelaxing, we can now put those behind us and look forward to his selection of which group will lead us through our March run to Glory.
Can Jim Burr Go To The ACC Too Since He Ruined The Final Big East Tournament Game Between Georgetown and Syracuse By Calling Every Touch Foul Against Both Teams Because He Thought That Everyone Came To See Him Ref Award:
Jim Burr

Bruce Bowen Award:
Jabril Trawick. It is now abundantly clear that once a player on the other team gets hot from beyond the arc, all we need to do is stick Jabril on him and it's over. How many points did Southerland score once Jabril guarded him in the second half? A cool ZERO. This may be hyperbole, but between his lockdown perimeter defense, his ability to tie up loose balls, his steals, and his rebounds, Jabril is nearly as big a weapon on defense as Otto is on offense. Anyone between 6'1" and 6'8" will be completely and utterly flummoxed by Trawick, it's awesome.

Sadface Award:
We only have a maximum of six more games to watch Otto Porter in a Georgetown uniform. More will follow next week on this, but wow is that kid a pleasure to watch play basketball on both sides of the court.
Scoreboard Award:
The 2012-13 Georgetown Hoyas outscored the Syracuse Orange 173-143.
Something Georgetown Can Look Forward To Next Season Award:
The Big East Tournament in Madison Square Garden.

Troll Award:
I expected the flood of Orange trolls to invade the pure pages of THE GLOBAL PHENOMENON last night, but to see the nonsense spewed by our own fanbase over at HoyaTalk is a bit disturbing. Georgetown lost a game on the final possession of OT after missing 9 free throws and 14 threes and getting nothing from its best players! OMG! Abandon ship! Fire JT3! Shut down the program! Fucking morons.

Selection Sunday Award:
The heroic GU Stonewalls would like you to join them at Red Square on Sunday at 4:50pm to participate in a march through campus to the Athletic Department's Selection Sunday watch party. CBS will be covering the event live so we'll be bringing flags, tifos, scarves, etc. to show our community's spirit and support for the team. Oh, and your 2012-13 Georgetown Hoyas will also be joining them. That's right, the team. BE THERE AND WEAR GRAY.

Crazy Thoughts Award:
Last night gave me more confidence about Georgetown's run in the NCAAs than last Saturday's demolition in the Verizon Center. Why? Because last night EVERYTHING went wrong for Georgetown and somehow we still had a chance to win the game on the final possession of regulation. The measure of a team isn't when it shoots 60% from the field and knocks down everything in sight, it's when that team goes 4-20 from three, shoots 50% from the free throw line, gets a combined 5-19 from its two most talented scorers and STILL claws its way into overtime. Southerland and Cooney knocked down dagger three after dagger three, Keita made one less free throw in the game than he had in all of Big East play, the place was 80% Orange and yet even with all that, we forced our way back from a 12 point deficit to have the ball in our hands with a chance to win at the end of regulation. There was never a point in time where we looked rattled and there was seemingly never a point where we didn't believe we'd end up winning. I couldn't be higher on Georgetown right now after watching that game in person last night.

Jim Nantz Award for Casual In-Game Commentary:
Gratuitous GIF of Kate Upton Doing Kate Upton Things Award:
Kate Upton.
The Georgetown Hoyas are a nationally ranked powerhouse.
Selection Sunday is NeXt.