Your Fighting Hoyas of Georgetown advanced to the Semifinals of the Big East Tournament after throttling the Cincinnati Bearcats 62-43, and before we flip the switch to focus on the evil Syracuse Orange (AGAIN!), we're handing out a little hardware to those most deserving.
The Chris Wright Heart of a Champion Award:
This game started out looking like it would be the Jabril Trawick show, but down the stretch it was freshman D'Vauntes Smith-Rivera who made a bunch of key plans to seize the CWHoC Award in his first Big East Tournament game. DSR finished with 13 points and 4 rebounds and keyed a personal 5 point run to give the Hoyas some breathing room after Cincy had tied the game at 33. The Hoyas never looked back.
Don't Worry Everyone, Jabril Isn't Leaving Empty-Handed Award:
Jabril Trawick is the perfect antidote to Cincinnati's bushel of hot-headed bigger guards. For the second game against the 'Cats in a row, Jabril took Sean Kilpatrick out of the offense, holding him to 4 points on 2-12 shooting. When it was Cashmere Wright who got hot, Jabril locked him down and held him in check in the 2nd half, all while providing a "you guys aren't going to push us around" attitude that has become a trademark of this team.
The Opposite of Pope Francis Award:
Cashmere Wright is the devil.
Big Man U. Award:
With casual alum Dikembe Mutombo sitting baseline, Georgetown's big men Mikael Hopkins, Moses Ayegba and Nate Lubick combined for 8 points, 9 rebounds, 1 block and 11 fouls - with 8 of those rebounds coming from Ayegba alone. I know this Hoyas team doesn't need a true big man to win games, but a little help in the paint would be nice. At least Lubick hit one of those righty hookers.
Speaking of Righty Hookers Award:
Markel Starks! We've seen a lot of different shots this season from the crafty Markel, from runners in the lane to pull up and step-back jumpers, but his righty hook shot in the lane in the first half was a nice addition to his arsenal. NEED MOAR HOOKERS.

Cincinnati Basketball Award: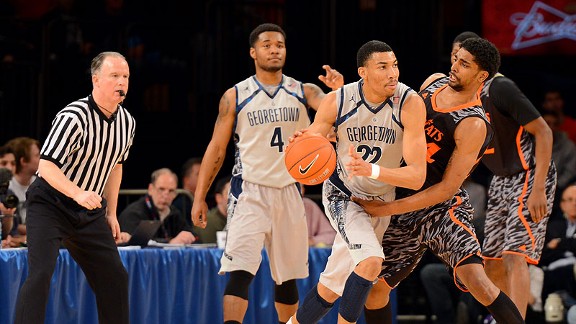 Dickie V Award:
The noon games are always a toss-up as players' body clocks are off and you never know what kind of output you're going to get on the court, and apparently this also holds true for the rapidly approaching D-List broadcast tandem of ESPN's Mike Patrick and Len Elmore. These two guys were off all day, with Patrick repeatedly referring to Cincy's Sean Kilpatrick as Sean Fitzpatrick and Len Elmore openly homering for the Bearcats while disputing the foul call when Jabril cleanly ripped the ball from Shaq Thomas's hands and was then bearhugged from behind. Thank goodness we've advanced to the casual night session with Bilas and Raftery.
Dimmer Switch Award:
Oh man that is real fucking nice:
via Hoya Vey


We Represent the Technical Foul Kids, the Technical Foul Kids, the Technical Foul Kids and we welcome you to Technical Foul Land:
Mick Cronin:
Kiss Your Mother With That Mouth Award:
Mick Cronin. ESPN's on-court microphones caught Cronin uttering multiple expletives to one of the refs after a foul call didn't go his way in the 1st half. Come on, Mick! It's a noon game and kids are watching! You are the worst!
Bandwagon Award:
I'm not really sure what "The Big Lead" is or why its twitter account has 50K plus followers, but this tweet just after the Hoyas had coughed up the lead rubbed me the wrong way, especially coming from a "longtime Hoyas fan". #unfollow
The Jim Nantz Award for Casual In-Game Commentary:
I believed in Nikita Mescheriakov's jump shot.
Preliminary Thoughts on Georgetown - Syracuse III Award:
Bring that shit on.
Gratuitous GIF of Kate Upton Doing Kate Upton Things Award:
Kate Upton.
The Georgetown Hoyas are a nationally ranked powerhouse.
Syracuse is Next.
via www.troll.me