Woo-hoo! What a weekend! Your Fighting Hoyas of Georgetown pulled out arguably the single greatest non-postseason win in the JT3 era, closing the Carrier Dome in epic fashion by juicing the Syracuse Orange 57-46. Since we here at THE GLOBAL PHENOMENON never shy from a chance to add some extra spice to the Casual Awards, we're handing out hardware to those most deserving in Oscars style, as we savor this victory for one day more. The envelopes please...
Live From The Red Carpet Award:
Nothing gets me going than the pageantry of the pre-Oscar festivities on E! My girl Giuliana Rancic and Ryan Seacrest do a great job interviewing all the stars as they waltz down the red carpet while informing the adoring public which designers have stitched together the dresses that no one will ever purchase or wear again and which jeweler has adorned their hands and bodies with rented baubles that no one could possibly afford. Hire Esherick and Over The Hilltop, two blog regulars that shockingly resemble Seacrest and Rancic, met up for frosty beverages in Chicago the night before the game. Before parting ways, the two witnessed a heavily inebriated couple fighting loudly and somewhat violently on the street (spit was involved). One of your intrepid blog reporters commented, "Everywhere I go, all I see are Syracuse fans."
Best Supporting Actor:
Moses Ayegba. Moses Ayegba! The big fella came out of nowhere yesterday to play an enormous supporting role in the Otto Porter show. Moses was a beast on both sides of the floor, anchoring Georgetown's zone and aggressively attacking offensive boards in a manner most Syracuse players only reserve for attacking women. Bonus points for his awesome accent. Double bonus points for the epic block on Rakeem Christmas that led to Otto Porter's 4 point play.
Best Animated Short Film:

Cinematography:
It's a tie! The first winner hails from way up in section 317 where a few brave Georgetown soldiers witnessed the Carrier Dome closure from these seats:

The second goes to the cameramen at CBS, who seemingly took pleasure in documenting the beautiful mass exodus of 35,000 fatties from the Carrier Dome, which by the way has been officially closed.

Best Costume Design:
Courtesy of first time Game Thread poster AxasAyoh, who dressed up his five-year old for the occasion:



Best Supporting Actress:
Rakeem Christmas. Rakeem Christmas. What a clown. I will remember two things about Rakeem's effort yesterday - his awful faux hawk and getting his shit pushed in by Moses over and over again. What's the difference between Christmas and Dashonte Riley? Nothing, except for a cooler last name. It brings me tremendous joy to watch kids like Christmas and Riley make the boneheaded decision to go to Syracuse over Georgetown and then not develop AT ALL over that time. It's the gift that keeps on giving.

Best Sound:
As a Georgetown fan there are a few sounds we look forward to hearing during games: the 'We Are Georgetown' chant, the 'Hoya Saxa' chant, the singing in unison of the Fight Song after sweet sweet victory. Close to the top of this list is the thundering silence of the Carrier Dome after a Georgetown win.

Best Sound Mixing:
No idea what this category actually means, but I offer Rich Chvotkin screaming "Hoyas Win" FIFTEEN TIMES for your consideration.
Best Adapted Screenplay:
Remember back in 1980 when the John Thompson-led Hoyas marched into Manley Field House, vanquished the Orange's 57 game home winning streak and closed the motherfucker down? That was a great story. And then the same damn story happened again in 2013. And it was awesome. And thank goodness for DVR because I can see it over and over and over and over. And over.

Worst Screenplay Award:
Michael Carter-Williams - "We've always been better than them, always will be better than them. And we just want to go out on top." Final score: Georgetown 57 - Syracuse 46.

Zero Dark Thirty Award:
The thirty minutes or so during this film leading up and through the Osama bin Laden killing were some of the more dramatic minutes on the big screen this year, though they were a way distant second to the Georgetown-Syracuse game where with just over 5 minutes left to play, shit began to get real. The Hoyas led the Orange by four points and the Carrier Dome was starting to come alive in anticipation of a fierce Orange comeback. What happened next was the Moses Ayegba block heard 'round the world and then the Otto Porter 4-point play of destiny on the next possession to give the Hoyas a comfortable cushion in the final minutes. Boom goes the dynamite. Syracuse. Dead. Bin Laden. Dead.

Best Director, Foreign Film:
Tim Brando. D'Vauntes Rivera-Smith for three! Oh, there goes D'Vauntes Rivera-Smith for a layup! ARE YOU KIDDING ME, BRANDO. THE KID JUST SCORED 33 POINTS IN HIS PRIOR GAME! I'd excuse the misstep once, but when it kept happening again and again and again it became ridiculous. Next time give us our friend Jim Nantz alongside the always awesome Bill Raftery.

Best Short Film:
Carmelo Anthony's jersey retirement. I hope that was very special for Melo, Melo Jr., and Mrs. Honey Nut Cheerios. He was on campus yesterday for just about as long as he was there for his freshman year. Remarkable stuff.
All I had to do to get this honor was go to Syracuse for nine months and then buy a building! Suck it, Gerry McNamara and Hakim Warrick!
via www.terezowens.com

Best Host:
Seth MacFarlane did a very solid job filling Billy Crystal's massive shows as Oscars host, but if Quentin Tarantino can basically thank himself for being a an excellent screenwriter then I'm going to go ahead and pat ourselves on the back by giving this one to Casualhoya.com. THE GLOBAL PHENOMENON provided a boatload of content during an abbreviated Syracuse Hate Week: Volume 1, chock full of GIFs, Songs, T-Shirts, Cease and Desist Letters, and the usual spate of Peanut Galleries, Game Previews, Game Threads, Recaps, Morning Afters and now these damn Awards. Can't wait for Syracuse Hate Week, Volume 2.
Argo Award:
The most memorable line from any film this year was "Argo-f*ck-yourself." So, even though it has nothing to do with anything, "Cuse-go-f*ck-yourself." Thank you.

Worst Director:
Jim Boeheim. Kind of surprising (or not, really) to see Boeheim have no answer to Georgetown's own version of the 2-3 zone, which forced the Orange into taking a number of horrible shots. The James Southerland three from nearly half court that gave the Orange an early 12-4 lead and caused the Carrier Dome to erupt in glee was probably the best thing that could have happened, as fruit after fruit attempted similar hero shots, all of which kept a Hoyas team that was struggling from the floor early to stay within striking distance.

Best Animated Feature Film:
Courtesy of HoyaSaxual:

Best Producer:
Greg Gumbel. As the minutes ticked down to the 4pm scheduled start of the Hoyas-Orange game, the nation was being treated to an absolute shitfest SEC contest between Georgia and South Carolina that just wouldn't end. The Dawgs and Cocks in a whistle-ridden meaningless contest being broadcast into our ears by Doug freaking Gottlieb caused the tip of the Hoyas game to be pushed to 4:10, and it wasn't until American hero Gumbel finally pulled the plug on Gottlieb that a nation clamoring to see the final Big East showdown between these two Big East badasses was mercifully granted its wish.

Silver Linings Playbook Award:
Bradley Cooper graduated from Georgetown after transferring from Villanova. Jennifer Lawrence is a real casual actress that I can't believe is just 22 years old. Syracuse lost to Georgetown in the final Big East game at the Carrier Dome. No silver lining for you, jerks.

Best Makeup and Hairstyling:
Jim Boeheim.


Les Miserables Award:
Ooh, where to start!
1) Syracuse Orange basketball players and coaching staff
2) Syracuse basketball fans
3) Citizens of Syracuse, NY, generally
4) Syracuse University Office of Athletic Compliance
5) Troy Nunes is an Absolute Magician
6) Nothing or anyone affiliated with Georgetown University, at all
7) The good-looking chick who played Eponine that got lost in the star-studded cast of the movie
8) Russell Crowe

Best Preview:
Coming soon to a t-shirt near you...

Best Song:
You can take Adele's magical version of 'Skyfall', I'll take this:
Best Actress:
Michael Carter-Williams. Michael Carter-Williams. Wow, he is a longer, leaner version of Scoop Jardine. There is no doubt in my mind that MCW will be a lottery pick in the spring. There is also no doubt in my mind that he will make Jonny Flynn look like a good pick. What the kid lacks in shooting ability he lacks for more in intelligence. Forget about the bathrobe incident and just evaluate yesterday's game. Nearly every big moment in the second half for Syracuse was marked with MCW driving into danger, getting caught in mid air, and throwing the ball directly to Otto Porter. What a talent.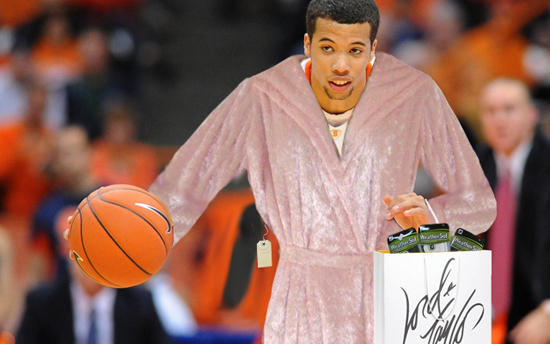 Best Actor/Chris Wright Heart of a Champion Award:
Otto Porter. What more can be said about Otto's performance that hasn't already been said. His 33 point masterstroke was up there with the best individual performances by any player in Hoyas history, and unless something very odd happens down the stretch he'll be the first Hoya to be named Big East Player of the Year since Jeff Green in '06-'07. After that performance on national TV that finally awoke the national media who was too busy slurping the ACC and B1G all season, Porter is now a legitimate National Player of the Year contender and has the Hoyas in contention for a one seed in the NCAA Tournament. Mind, blown.
Best Director:
John Thompson III. Later today Georgetown will enter the Top 10 in both national polls, joining Duke and North Carolina as the only programs in college basketball to be ranked in the Top 10 in each of the last SEVEN YEARS. Think about that, and then think about where this program was before he was brought to the Hilltop. We say a lot about JT3 on our message boards and blogs. We question the offense when a game doesn't go our way, we question timeouts when a play doesn't immediately develop, we wonder about inbounds plays that may not work. What we don't do enough of is be thankful that he has turned Georgetown into one of the most successful programs in all of college basketball, has sent two players (Jeff Green and Greg Monroe) into the NBA Draft lottery with a third well on his way, developed Roy Hibbert into an NBA All-Star, has Georgetown on the final list of many of the nation's top recruits, and perhaps most important, has gone about doing it in a way that we as Georgetown graduates can all be proud.
Best Picture:
The 2012-'13 Georgetown Hoyas.
You think anyone wants it more than these guys? And Jabril isn't even pictured.
Just as a reminder, this team lost its three leading scorers from last season, lost Greg Whittington towards the beginning of Conference play and currently has no seniors. The Hoyas now sit at 21-4 and atop the Big East at 11-3. This season up to now has been one of the most enjoyable rides for any Hoyas team since, well, last year's team, a testament to the coaching staff, the current roster, and of course, the lovely Ms. Kate Upton.
Congratulations, Hoyas

The Georgetown Hoyas are a nationally ranked powerhouse.
Connecticut is NeXt.