Well, well, well, what a difference a week makes! At this time last week we waltzed into work on a dreary Monday with our heads hung low after the potentially season-ending and soul crushing loss to USF, but hey world, LOOK AT US NOW! The Hoyas don't have much time to savor the Louisville win with Seton Hall lurking on Wednesday, but before we focus on the Pirates we here at THE AWARD WINNING GLOBAL PHENOMENON are handing out hardware to those most deserving.
The Chris Wright Heart of a Champion Award:
Markel Starks! Starks was simply fabulous against the Cardinals, tying Otto Porter for the team lead with 17 points but more importantly finishing with just ONE TURNOVER as the primary ballhandler (shut up, Beavis) against the vaunted Louisville pressure. Starks' also kicked it up a notch on defense, holding the Cardinals' Peyton Siva to a whopping zero points in what was probably the worst game of his career. Well done, Markel. Well done.
Aaron Bowen Play of the Century Award: (GIF courtesy of Casual GIF goddess HoyaSaxual)


Before We Go Further We Must Take This Opportunity To Shove Syracuse's Loss to Villanova in Jim Boeheim's Face Award:
Jim Boeheim.
A Few Good Men Award:
Those at Verizon were treated to a real casual halftime performance by some airmen who did that cool thing that they do with the gun moves in unison thing. America! Who's gonna do it. You? You Lieutenant Weinberg?

Tim Gunn Fashion Award:
The news that the Hoyas were rolling with the usually disastrous white uniforms wasn't met with great enthusiasm from the Hoya faithful, but the duds came across real fresh looking on TV and were a nice contrast to the blue and gray in the crowd. The one dude who probably could have done without the white was Nate Lubick, who was like REALLY WHITE.
Bring Back The Replacement Refs Award:
Not sure if it was Cahill or O'Connell who whistled that jumpball at the end with Louisville blatantly trying to foul Porter but that was one of the worst calls I have ever seen and I have seen a lot of damn calls. The call didn't get much pub in the national media since Siva wound up missing the potential game-winner (along with every other shot he took!), but had this game gone the other way I'm not sure what would have happened. JT3 was so fired up that Lubick had to hold him back, and I can't imagine the revved up crowd at Verizon would have reacted kindly to a victory being taken away from them. Ball don't lie, Louisville. Ball don't lie.
DJ AM Memorial Award:
In the words of the late great Michael Jackson it doesn't matter if you're black or white, but it was nonetheless interesting to see the discrepancy in the favorite song choices of our players that were shown in the jumbotron during the game. The song choices for Lubick, John Caprio and David Allen were in the Justin Bieber and Cary Rae Jepsen realm, whereas the other guys chose songs that were, um, quite the opposite. Who knew, by the way, that our trusty Blog DJ's inspired selection of The Cranberries catalog would guide the Hoyas so well through what many thought would be our darkest week! Hail Blog DJ!
Homecourt Advantage Award:
Man, games at Verizon are just so much more casual when the students and fans show up and are into it from the opening tip. That game looked and sounded great from the vantage point of my living room, and by all accounts it was a great atmosphere in the dimmer switch-less Phone Booth. Extra props to The Stonewalls in section 118, who have really done nice things with all that casual flag-waving. And extra-extra props to the proud Casualties who showed our international audience what Casual Headbands can do.

Big Man U. Award:
Yeesh. Beating a dead horse at this point, but 2 points, 0 rebounds and 3 turnovers from Georgetown 'center' Mikael Hopkins just isn't going to cut it. Moses Ayegba, who was so effective in the heroic shellacking at Notre Dame, played just 4 minutes and did nothing. Would Georgetown be a national title contender with Greg Whittington and Josh Smith playing? Probably. Are neither going to play until next season? Likely.
Speaking of Josh Smith Award:
Josh Smith is not a small person.
Onions Award:
D'Vauntes Smith-Rivera. Miss a three and get another chance from the exact same spot? SHOOT THE BALL, DSR! DSR was just 1-10 against Louisville, but his three from the same spot after missing just seconds earlier was the second time he accomplished the feat in two games, and showed that the kid isn't afraid to launch it. I like this guy.
Hello, Jeff Green! Award:
Green seems to be taking a lot of heat in Boston but it hasn't stopped him from throwing down some mondo highlight reel dunks this season, with this offering from yesterday's game against the Heat near the top of the list.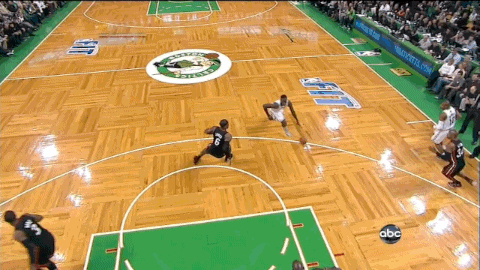 Rocky Balboa Award:
Jabril Trawick! Jabril is the greatest, devoting himself to the glass by hauling in 8 rebounds and even better, not taking any of Louisville forward Chane Behanan's shit, getting in his face and drawing double technicals in the process. I can't recall the last time a Hoya had Trawick's fire on the court. Perhaps Patrick Ewing, Jr.
Salvage Your Dignity Award:
On a cold day in DC, our favorite t-shirt gatling gun guy was appropriately dressed:
Why So Serious Award:
Triumphant return to Verizon for HoyaJoker, who witnessed the victory over Louisville and avoided a nosebleed in the process.
Debbie Downer Cynical Award:
I mean, I hate to be such an ass at a time like this, but how the hell is Georgetown supposed to win games and be a Big East threat as the season rolls on without Greg Whittington? Sure, things are nice now and we're pulling out wins, but Whittington was arguably Georgetown's most improved player this year and was a huge part of this team. I'm enjoying this ride as much as anyone, but I'm just not sure how much longer it will (or can) last.
Delusional Award:
Are the Hoyas somehow better without Whittington? 4-1 with wins against Big East leaders Louisville, Notre Dame and St. John's? Is it even possible that the Hoyas can threaten for the Big East title with a 8-deep rotation with the 7 and 8 guys being Aaron Bowen and Moses Ayegba?
D-League Award:
Whichever D-League squad drafts Russ Smith, Gorgui Dieng and Peyton Siva is going to be fun to watch. Incidentally, Ricki Pitino's horse 'Gorgui' finished 3rd in the 7th race at Gulfstream yesterday.
We're Going Streaking Award:
The Hoyas are now 1-0 since this ultra-casual New Orleans Pelicans hat was purchased.

Jim Nantz Award for In-Game Commentary:
When a play like Aaron Bowen's occurs, special things happen in the Casual Game Thread:

Gratuitous GIF of Kate Upton Doing Kate Upton Things Award:
Kate Upton.
The Georgetown Hoyas are perhaps once again a nationally ranked powerhouse.
Seton Hall is NeXt.