The thirty point WIN over South Florida seems like ages ago by now, but nonetheless we can't officially move on to discuss all things grotesquely Orange until we stamp the USF game with a healthy dose of Casual Awards. Congrats to New York Giants fans on the big Super Bowl win, and for the Patriots fans who are a bit sad this morning, well, that's just too bad. Away we go...

The Chris Wright Heart of a Champion Award:
Henry Sims. Sims dropped 13 points on just 3-7 shooting from the floor, but added 9 rebounds and 5 assists in what was another solid effort from the senior big man. Honorable mention: USF.
More Awards after The Jump:
You'll Shoot Your Eye Out Award:
South Florida Bulls. What the hell was that? 31% from the floor, 16 field goals and 17 turnovers!?! 23 rebounds, 22 personal fouls!?! The problem with a such a horrid performance is that it's tough to gauge whether it was a product of general suckitude or excellent defense by the Hoyas. I'll suggest Georgetown had something to do with it since most of the shots were bad ones, but a lot of those turnovers were terrible passes over players' heads and to no one in particular. At least Tampa has Mons Venus.
Mex Carey Award for Outstanding Sports Information Directing:
Mex Carey. Misspelling a 3 letter word (well, acronym) is quite impressive. Though in fairness, USF is so terrible that they don't even deserve to have their name spelled correctly.
Go SFU!
Flip Saunders Award for Horrific Phone Booth Coaching:
While driving to the game, I heard Rich Chvotkin say that USF and Georgetown are two of the top defensive teams in the Big East. How is that possible? USF played essentially no defense throughout the game (Hoyas had five players in double figures and took THIRTY free throws) but has one of the most inept offensive schemes of all time, consisting of throwing the ball around the perimeter a couple times and then either jacking or dumpint it to Gilchrist.

Dominique Jones Award:
John Caprio. It only took 2 minutes of gametime for Caprio to earn the right to turn to the student section and scream "Y'LL CAME TO SEE JOHN CAPRIO PLAY." He didn't actually do that but after only about 1 minute of chanting, JT3 realized that USF sucks and tossed Caprio in. Though we aren't usually huge fans of showboating, (1) USF damn sure deserves it and (2) An alley-oop from Caprio to Bowen doesn't come along every day and those 2 cheer their asses off through the game. Special thanks to GIF Goddess hoyasaxual for the below.


Casual Delusion Award:
Ticket scalpers. I thought my eyes were deceiving me but by showing up late, I got to walk along F Street and see scalpers selling tix. Unfortunately, I didn't catch the price but if anyone paid more than $3 for that game, we're sorry for your loss. Honorable mention - the guys hanging with the scalpers who rope in the unsuspecting with "free hats" and then demand $15 for each. The down ecnomony is driving innovation.
Casual Quote Award:
"The more we couldn't score, the more we got frustrated," Heath said. "And all of a sudden, the avalanche opened up."
11am Games are Ridiculous Award:
11am games.
11am Games Result in This Halftime Show Award:


Magic Johnson Play Of the Game:
Jabril Trawick. Late in the second half, the Hoyas get a steal and take off on a 4 on 1 and rather than dropping it to either side, Jabril drops it behind him and clears out the paint for Nate Lubick to fly in for a dunk. We've been hard on Lubick this year and though he's limited offensively, he hustles through the game and it's good to see him rewarded for running. For those of you old enough to remember (or young enough to use the YouTube), the 80s Lakers featured fashion icon, Kurt Rambis, another player with limited talent but who Magic consistently rewarded for running the floor. Heady play by Jabril and an excellent finish by Nate.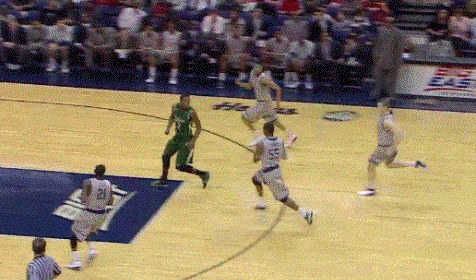 Casual E-Mail Award:
It's always nice to get emails from Casualties both near and far, especially ones containing documentation.
Dear Casual,

I was in London for the weekend, and since I couldn't get to the Hoyas game, I made sure to do the second best thing--celebrate the beatdown with a casual Sunday lunch at Nando's on Berner Street. Just the usual DC order: half chicken, hot, with garlic bread and a coke (the menu is there to make sure they have the same stuff in the Old Country...they do). Pretty sure it's $14 and change in DC, so the conversion was a bit steep at £11.10, but it was as good as it looks and oh-so-casual.

Casually submitted for your consideration,




StevesieZissou
Rotten Tomatoes Award:
Moneyball. Maybe it was the product of having read the book (I AM SO WELL-READ) and having huge expectations, but I wasn't blown away by this one. Some put Moneyball right up there in the pantheon of great baseball movies with Major League and Field of Dreams, but for me this was nothing more than an interesting look at how the Oakland A's did business. No idea why the fat kid from Superbad got an Oscar nod for that role as well, just didn't think he brought that much to the table.
Document Your Super Bowl Snacks Award:
Speaking of table...
Casual Chili
Casual ribs
Monitoring the Minutes of Nate Lubick, Otto Porter, and Mikael Hopkins Award:
18, 27, and 9 minutes for Nate, Otto, and Mikael respectively, continuing the trend of Hopkins getting longer looks on the court and cutting into Lubick's burn.

Good Game for Lubick Though Award:
In his 18 minutes of action, Lubick scored 5 points, grabbed 4 rebounds and added an assist while playing aggressive, hustling basketball. Though those advocating he be replaced in the starting lineup weren't silenced by this performance and the inevitable technical for the pull-up after the dunk, if Lubick puts in this kind of effort each game we'll be fine.


Miraculous OVER Award:
The Hoyas and the Bulls combined for 38 first half points, as those who held OVER wagers on the 115 total began to ponder whether leaping off the Key Bridge would be the best decision they made all day. In the 2nd half however, these two defensive juggernauts turned on the jets (well, at least the Hoyas did), pouring in a whopping EIGHTY TWO POINTS! The lesson, as always: jumping off the Key Bridge is never a solution to your horrible existence.

Welcome Back, Markel Award:
Though once again picking up 2 fouls in the 1st half, Starks was the steady floor general that the Hoyas will need going forward, chipping in 10 points on an efficient 4-6 shooting performance in 27 minutes. The 1 assist is a bit troublesome, you know, because point guards are supposed to dish out assists.
Lord Voldemort Award
:
Has Greg Whittington hit a freshman wall? New Greg couldn't stay on the court against the Bulls, picking up 4 fouls and finishing with just 1 point in 9 minutes. Not going to pile on the kid right now, but FINISH YOUR LAYUPS. That is all.
Old Balls Award:
Duke Blue Devils. Weekends are so much more enjoyable when Duke loses at home to an unranked team aren't they? This is going to make it so much better come Selection Sunday when Duke is awarded a 1 seed and plays all of its games in North Carolina.

Enjoyable Halftime Show Award:
Madonna! Not sure why she cheapened it by bringing in that no talent hack Nicki Minaj and the even more untalented M.I.A who no one recognized and wouldn't be talking about until she flipped the bird to billions of people watching, but Madonna did a nice job out there in what is usually a no-win 7 minutes of scrutiny. Having said all that, #BRINGBACKSPRINGSTEEN.
Gratuitous Pic of Kate Upton Being Supported Award:

Indeed
.

The Georgetown Hoyas are a nationally ranked powerhouse.

Syracuse is NeXt.