Your Fighting Hoyas of Georgetown wrapped up its non-conference schedule with a resounding 65-48 pillaging of the American Eagles and as usual we're putting on our Santa hats handing out Christmas gifts to those most deserving. Away we go!
The Chris Wright Heart of a Champion Award:
Otto Porter. Porter closed out a tremendous non-conference performance with 16 points, 13 rebounds, 3 assists, 2 steals and ZERO turnovers against the Eagles. Porter leads the Hoyas into Big East play firmly on the shortlist for not just the Big East Player of the Year award but also could sniff National honors should the Hoyas continue to make noise through March. #delusional
Big Man U. Award:
Mikael Hopkins has been the subject of tons o' discussion of late over on these parts, but he had a very nice game against American finishing with 9 points, 3 rebounds and led the Hoyas with 5 assists. 5 assists! If Hopkins can develop into that passing big man that Georgetown needs, watch out.
Salvage Your Dignity Award:
Our favorite t-shirt gatling gun dude at Verizon rocked out in a Santa outfit to ring in the holiday cheer at the American game, but it was this get-up in the Western Carolina game that caught our attention since we here at THE GLOBAL PHENOMENON are huge fans of elves.
Special thanks to @BobbyBancroft for providing the excellent documentation.

Christmas Song Award:
Tough to go wrong with Mariah Carey's "All I Want For Christmas Is You" tune but since this is a Springsteen blog we're rolling with "Santa Claus Is Coming To Town" to help wash down our milk and cookies. Below is a clip of a performance from Paris back in 2007 with the Big Man doing nice things on the "you better be good for goodness sake" line.
Quotable Award:
American coach Jeff Jones, who after the game said "The odds are against the little guy that's playing the guarantee game." That's very true and thank you for being such generous guests! I hope you don't spend all that money in one place on Wisconsin Avenue, Mr. Jones! Whatever happened to that kid who played Data in Goonies and Short Round in Indiana Jones and the Temple of Doom. "I very small, you cheat very big Dr. Jones!"
Jack Nicholson Award:
Nice to see former Hoya Greg Monroe sitting courtside for the game against American, and great move bringing former UConn buffoon Andre Drummond with him so he could once again be showered with boos by the sold-out Verizon Center crowd.
I Love L.A. Award:
Good to see UCLA transfer and possibly soon-to-be-Hoya Josh Smith chilling behind the bench during the game. In any other college basketball arena the home crowd would have given a potential impact-transfer a standing O to show him love and help sway his decision, but as usual it was too damn bright in the stands for anyone to really notice him.
Document Your Lunch Award:
From SirHoya, casually spending the holidays in London:
"Greetings of the season chaps. Documented below was the lunch snack offering on a, um, Virgin train somewhere in the English Midlands. Guessing some news stories just didn't make it over the pond."


Efficiency Award:
How 'bout the Princetown Offense! 18 assists on 23 field goals! Hooray!
The Gift That Keeps On Giving Award:
Thank you to the Temple Owls, who knocked off the Syracuse Orange in spectacular fashion on national television. The Georgetown win followed shortly thereafter by the Syracuse loss helped kick off a very joyous long Christmas weekend for the Hoya faithful, who love nothing more than having lumps of coal dropped in Syracuse stockings that weren't stolen from Lord & Taylor.
Lord Voldemort Award:
Sharpshooting freshman Stephen Domingo is 2-16 from three so far this season. The stroke is silky smooth but Domingo's elevation on every attempt has led to a number of shots off the back iron. The good news is that Jabril Trawick had a similar issue last season, and oh, look at him now! Speaking of which...
The Rocky Balboa Award:
How good has Jabril Trawick been so far, huh? Filling a massive need for a spark off the bench, Trawick has brought his Philly toughness to the floor to go along with a surprising offensive game, hitting shots on drives to the hoop and beyond the three point line. Jabril had 7 points, 4 rebounds, 4 assists and 2 steals in 20 minutes against the Eagles and will be Georgetown's key contributor off the bench in conference play.
The Holy Crap, It's Time For Conference Play Award!
Holy crap it's time for conference play!
Fantasy Football Award:
Cam Newton took a lot of crap from the media and fellow fantasy owners earlier this season for an underwhelming start, but boy, what a finish! On behalf of the numerous green pieces of paper headed to your loyal owners shortly this Holiday season, thank you, Cam Newton. Merry Christmas to you and your family.
Movie Review of the Week Award:
Caught "This is 40" last night which was OK. You get your usual assortment of chuckles that you'd come to expect from a Judd Apatow film and if you're a Paul Rudd guy like I am, this one delivers. Yes, I am a Paul Rudd guy. Who would have thought that after "Clueless" that it would be the guy who played Alicia Silverstone's brother that would emerge as the most famous of that lot? In case you're wondering, I have already purchased tix to see "Les Miserables" tomorrow and will likely roll with my traditional popcorn, raisinettes and diet coke combo while humming along to "I Dreamed A Dream." I am awesome.
Send a Cheese Plate For Christmas Award:
Cheese is the only possible thing that can properly complement all of the damn whine over on VUHoops.com. It's been nothing but doom and gloom over there since the heroic Catholic 7 decided to seize control of its destiny, as the purveyors of that site have been warning its followers that Villanova is doomed since this new basketball league couldn't possibly garner media interest and a good TV deal. Well, Villanova may be doomed because well, it's Villanova, but with news that Fox may offer each member school $3 million, they now have a bunch of egg nog on their faces.
Jim Nantz Award for In-Game Commentary:
Here are a few casual nuggets from the game thread which morphed into Dance Party USA after the Temple Syracuse game
by rochesterhoya07 on Dec 22, 2012 11:08 AM EST via iPhone app reply actions
by HectorLuna on Dec 22, 2012 12:09 PM EST reply actions
by B. Lerner @ Hoya Prospectus on Dec 22, 2012 12:30 PM EST reply actions
by yaboynyp on Dec 22, 2012 12:34 PM EST reply actions
by bleeding blue, painted gray on Dec 22, 2012 1:16 PM EST reply actions
by TexaHoya on Dec 22, 2012 1:18 PM EST reply actions
by Matt Causey's Jumpshot on Dec 22, 2012 1:25 PM EST reply actions
by yaboynyp on Dec 22, 2012 1:46 PM EST reply actions
by Otto's AAU Squad on Dec 22, 2012 2:03 PM EST reply actions
by SwordOfBrunner on Dec 22, 2012 2:04 PM EST reply actions
Gratuitous GIF of Kate Upton Doing Kate Upton Things Award:
Kate Upton.

Merry Christmas To All, And To All A Good Night Award:
Welcome to the world to this new Hoya fan, whose name I don't know since this pic was sent to us via twitter from @cjmcardle but I shall name Casually Adorable Saxa, Jr.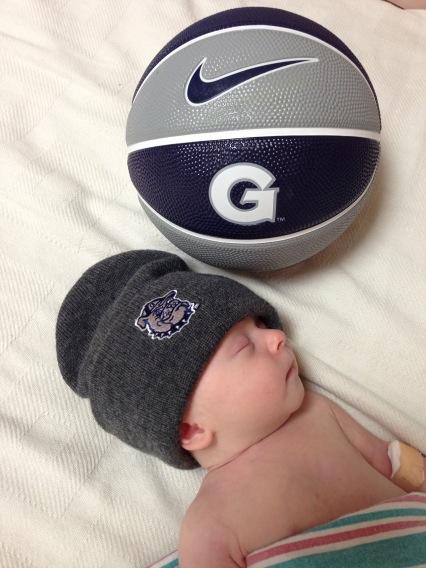 The Georgetown Hoyas are a nationally ranked powerhouse.
Marquette is NeXt.