Georgetown lost its fifth straight game against West Virginia yesterday, but frankly we all should 1) be pleased with the effort, and 2) happy the guys got out of Morgantown in one piece and without having batteries heaved at them. Since we don't have much time to harp on the loss before we flip the switch to Cincinnati, we're handing out hardware to those most deserving. Away we go...

The Chris Wright Heart of a Champion Award:
Hollis Thompson. Hollis paced the Hoyas with 20 points on 7-13 shooting and 5 rebounds. Though Thompson missed 5 critical free throws that would have drawn the Hoyas closer, on a day when no one else stepped up to help him out it's tough to give this to anyone else.
More Awards after The Jump:
Academy Award for Best Short Film Award:
When casualty hoyasaxual applies for a job in the GIF Department at Pixar films, I'm sure this offering will be at the top of her resume: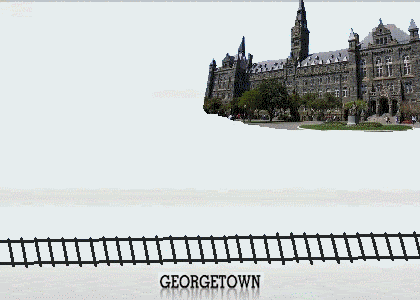 Dickie V Award:
John Sanders and Bob Wenzel were a great announcing team, particularly adept at adding nothing to a broadcast, lulling me to sleep with banal observations (yes I just used that word) and refining my ability to hit the mute button on my casual remote. As soon as the game began with a picture of a zombie-like Sanders standing somewhere in the bowels of that gym in West Virginia, all was lost.
Casual Postgame JT3 Quote Award:
"Our attention to detail, particularly on the defensive end, was not where it was supposed to be," Georgetown coach John Thompson III said. "Most of it was our turnovers. They got a lot of easy baskets off our turnovers." Yes, though it is tough to play defense when surrounded by oafish bearded fans armed with batteries and an equally oafish bearded mascot holding a rifle.
Dunk The Ball, Dammit Award:
Henry Sims and Greg Whittington. Both guys can dunk the ball, I know it. Yet, game after game, they go up for soft layups and miss bunnies. Throw it down on someone, for the love of all that is holy.
Where Have You Gone Award:
Markel Starks. Since Markel lit up Louisville, his production has left something to be desired. I liked the confident point guard who finished strong and knocked down assassin-like threes. Sometimes I feel like the complexity of the offense overwhelms him and he thinks instead of plays. I'd like for him to stop doing that.
Freshmen Gonna Be Freshmen Award:
Georgetown. Our freshmen looked like freshmen for the first time this season yesterday. Otto Porter, oh sweet sweet Otto Porter, actually kind of killed us with bricked shots and careless turnovers. That said, I am pretty sure he is still the person I trust with the ball more than anyone else on the team, and I'd rather he put up a stinker in January than in March.
Find The Shooter Award:
Georgetown. Hollis Thompson had it going yesterday, and when that happens, I'd rather we junk the teamwork and just get him the ball. He should have had 20 shots. The kid is a streaky shooter, and when he gets hot, he can fill it up from anywhere. Let's allow him to be given that opportunity. He could have had 35 yesterday with more looks.
No Quit Award:
The young Georgetown Hoyas. Everything that could have gone wrong yesterday did, we were ice cold from three, we turned the ball over, and we got outrebounded. Yet, with just about two minutes left, somehow we were only down four points. Granted, we lost the game and everyone would like to see a better effort for a consistent 40 minutes, but our grit and ability to stay in games will bode will for us as February and March arrive.
Sweet Revenge Award:
Cincinnati. This team of bandied idiots RUINED our season last year when they broke Chris Wright's hand. For those of you who have selective memories, we had just ripped off 8 straight Big East victories, lost a thriller to UConn (who ended up winning the national championship), and beat USF before the Cincinnati game. Then it all came crashing down with an awkward injury and we never won again. Remember Chris Wright crying on the bench? Yeah, that still hurts me to think about. Remember when he tried to come back into the game but couldn't catch the ball? Yeah, that still hurts my heart. What I am trying to say is BEAT THE SHIT OUT OF THESE CLOWNS FOR CHRIS ON MONDAY.
Keep Shooting Award:
Henry Sims. The mid range jumper looks great, and the close-to-the-basket shots will start falling. Keep shooting the rock, my friend. It continues to astonish me that Henry Sims is the hub of our offense, an offense for a team that is currently ranked #9 in the country. I need to stop sniffing glue.
Old Balls Award:
The University of Pittsburgh. Nice loss to DePaul in hoops, jerks! Oh, nice loss in that Meineke Auto Poulan Weedeater Belk Bowl to SMU, assholes! Wait, is that the very same SMU that will be replacing you in the Big East! Why yes, it is! Sayonara, punks!
Lord Voldemort Award:
Ralph Feinnes played He Who Shall Not Be Named in the Harry Potter films, but Nate Lubick is rapidly making a case to play this role on the Hoyas. Though numerous Hoyas looked a tad off yesterday, Lubick fouled out in just 15 minutes of action, and his regression so far has caused some to wonder whether Mikael Hopkins might be a better option at the 4 spot next season.
I Believe In You Award:
Nate Lubick. He actually looked pretty damn good yesterday, but was really hampered by foul trouble. He finished nicely at the basket and took a solid charge, while grabbing a bunch of rebounds. I don't understand why people blame him for a loss like yesterday, if anything, he's been on the upswing.
Hey, What's That Award:
The Hoyas threw a previously unseen halfcourt trap at WVU, which was pretty effective resulting in 16 turnovers and numerous easy baskets. Though I'd like to see Georgetown take advantage of its youth and length by unleashing a stifling soul-crippling full court press of hell at its opponents, this was good to see and I suspect JT3 will use it again going forward.
Document Your Halftime Snack Award:
With the Hoyas down 2 after a sloppy first half and victory in sight, I went with a nice orange to quench my halftime hunger. NEVER AGAIN.
Juliska dining set
Zebra Award for Atrocious Officiating:
I will never blame a loss on the refs calling the game, but something needs to be done about these overzealous officiating crews that refuse to swallow their whistles. Our games with West Virginia are traditionally sloppy affairs, but neither squad was able to get in any sort of rhythm yesterday as the refs seemingly called fouls on nearly every possession. One question I do have is why are the refs so old? Get some new, younger officials in the game who have the legs to run up and down the court and won't blow whistles to make up for plays down low they don't actually see.
Tim Gunn Award:
Kudos to WVU coach Bob Huggins for rocking the track suit with a short-sleeve vest crop top. Nice look. NOT.
Country Roads Award:
Kudos to casualties HoyaJoker and wadetandy for sticking it to the guys over at the WVU blog Smoking Musket, shattering their dreams and very existences by exposing the fact that the John Denver song "Country Roads", commonly associated with West Virginia, was actually written by Bill Danoff who penned the lyrics based on inspiration he found in the little windy roads in MARYLAND.
Tom Petty "Into the Great Wide Open" Award:
The Big East. On a day when the 9th ranked Hoyas lost to unranked West Virginia, 8th ranked UConn lost at Rutgers and 10th ranked Louisville lost at home to Notre Dame. It's going to be an interesting year in the Big East, and with Syracuse likely in line for the top slot in the standings, the rest of the conference is wide open. Under them skies of blue.
The Jim Nantz Award for In-Game Commentary:
Here are a few select golden nuggets from the Casual Gamethread:
by beatcuse on Jan 7, 2012 12:22 PM EST via iPhone app reply actions 1 recs
by hoyabballownsall on Jan 7, 2012 12:24 PM EST reply actions
by The Lorry Michel Backrub on Jan 7, 2012 12:28 PM EST reply actions
by DHB Enterprises on Jan 7, 2012 12:37 PM EST reply actions
by who will sex dikembe tonight on Jan 7, 2012 12:40 PM EST reply actions
by The Lorry Michel Backrub on Jan 7, 2012 12:51 PM EST reply actions
by StPetersburgHoya on Jan 7, 2012 1:15 PM EST via iPhone app reply actions
Gratuitous Pic of Kim Kardashian Emerging from the Ocean Holding Her Sunglasses Award:
Indeed.
The Georgetown Hoyas are a nationally ranked powerhouse.
Cincinnati is NeXt.