First Chris Henry, then Brittany Murphy, and now this.  When will it end?
It's no secret that we here at Casual Hoya have been bashing Nikita since it was ABUNDANTLY APPARENT TO ANYONE WATCHING BASKETBALL THAT HE COULDN'T PLAY AT THE BIG EAST LEVEL.  Nonetheless, JT3 still trotted him out there (as a starter no less), while we fans witnessed atrocity after atrocity, turnover after turnover, foul after foul.  This season, after it was once again ABUNDANTLY APPARENT TO ANYONE WATCHING BASKETBALL THAT HE COULDN'T PLAY AT THE BIG EAST LEVEL, after a few more dismal performances Nikita was relegated to the end of the bench, where he toiled next to the walk-ons with his only glimmer of hope to see the court being in a blowout.   
Today, however, our collective anguish comes to an end with the news that Nikita is transferring.  Is Nikita a good kid?  I'm sure he is.  But if you want to post about that, feel free to head over to HoyaTalk.  The bottom line here is that Nikita's contributions of less than one point and less than half of a rebound per game will not be missed, and with an additional scholarship now opening up this is great news for the program.  I'm not going to get into the argument about whether the staff should be questioned for recruiting a guy like him to begin with, because frankly, this is a banner day and I'm in the holiday spirit. 


Before we properly say goodbye to Nikita, please see below a few of his greatest achievements, none of which, however, can equal the infamous shot off the side of the backboard against St. John's that is his ultimate legacy and signature moment as a Georgetown Hoya.
Bon voyage...
Wearing his warmups (thankfully, we saw a lot of this one)

A Tribute in Pictures after The Jump:
Stretching (old school high school shout out):

Getting beat on defense (by a guy on Mount Saint Mary's):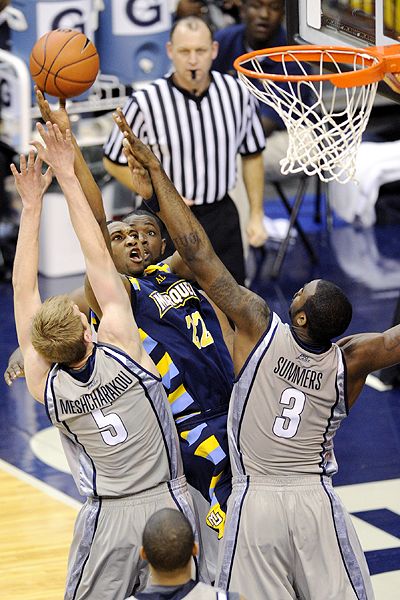 Absurd runners in the lane:

Aimlessly groping other teams' players:

Everyone's favorite, falling down:

The Coup de Grace (photo actually taken by CasualHoya):
Rest assured that we at CasualHoya appreciate his contributions and will continue to hand out the Nikita Award for most horrifically awful play of the game. 
A tradition unlike any other.
Casually.